On 2022-05-17
(
140 reads
)
The Graduate School of Letters of Kyoto University and the Kyoto University Museum have been carrying out the restoration and digitization of an important cultural property Dainihonshi hensan kiroku held by the Graduate School of Letters since academic year 2018. Three hundred twenty-two images of the restored volumes 15-20 are now available in Kyoto University Rare Materials Digital Archive.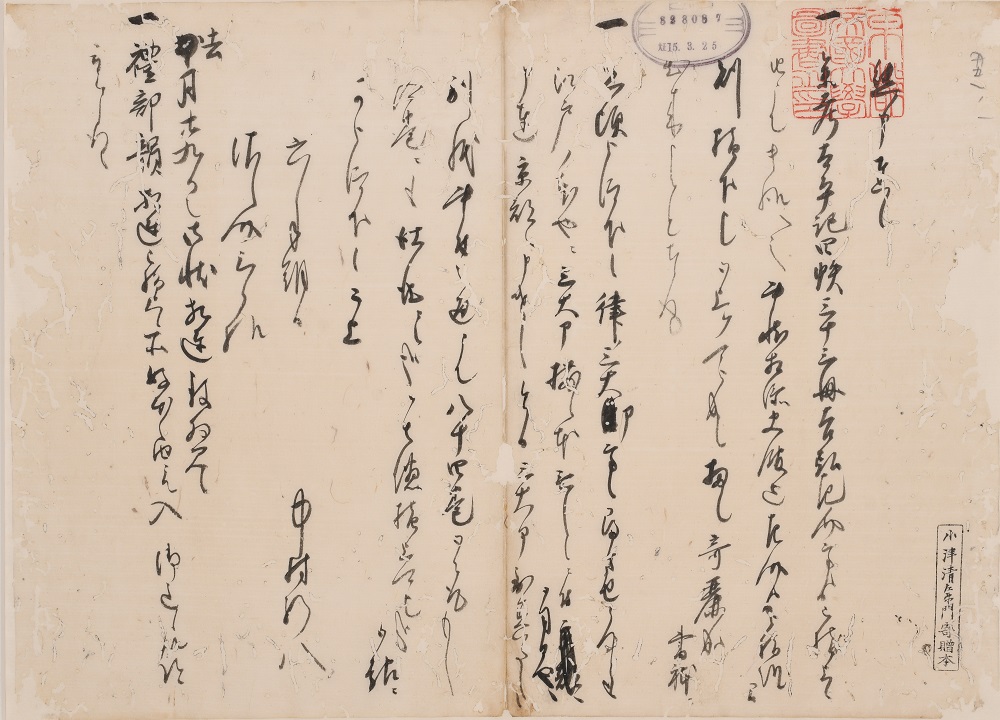 ▼Important Cultural Property - Dainihonshi hensan kiroku (G.S. Letters)
 
Dainihonshi hensan kiroku (大日本史編纂記録) is a collection of more than 6,000 letters (copies) exchanged between Shokokan (彰考館; Mito Domain's office for history compilation) in Mito (currently in Ibaraki Prefecture) and Edo (currently Tokyo) and their Kyoto office regarding the compilation of Dainihonshi (*1) by Tokugawa Mitsukuni (徳川光圀; 1628-1701). A total of 42,810 people and organizations and 15,159 historical records and literature works are mentioned in the letters and the content covers a wide range of aspects of the time, such as history, literature, Confucianism and Japanese classical literature, as well as the publishing culture during the Genroku Period, which makes this rare material a first-class historical record.
The rare material, before being restored, consisted of 248 volumes of about 10,000 sheets (one sheet folded in half to form a pouch makes two pages) in the form of fukuro-toji yotsume-toji (袋綴四つ目綴装) with sheets of papers folded at the fore edge and sewn at the back edge at four points. However, the rebinding and restoration done to the material during the Edo period were not appropriate to secure its long-term preservation; they also made it impossible to read the majority of the volumes without damaging them, because the text near the back edge was sewn inside the spine. Therefore, a restoration project was launched in academic year 2018, with a plan to restore first 20 volumes funded by the Sumitomo Foundation. The Graduate School of Letters has also set up Kyoto University Fund for the restoration of its library collection and the Kyoto University Museum acquired the university's special budget for this project in 2018.
Each volume of Dainihonshi hensan kiroku is to be released on the Internet through Kyoto University Rare Materials Digital Archive upon the completion of restoration and digitization processes. As of May 17, 2022, the Digital Archive provides 1,872,545 images of 23,250 titles.
On 2022-05-16
(
436 reads
)
The Kyoto University Library Network has been working to alert and educate KU researchers about the issue of "predatory journals". And we have published a new leaflet about this issue.
This leaflet contains the latest information on the increasingly complex methods in which predatory journals operate.
Please take a look at it.
"Beware of Predatory Journals"(Kyoto University Library Network, March. 2022.)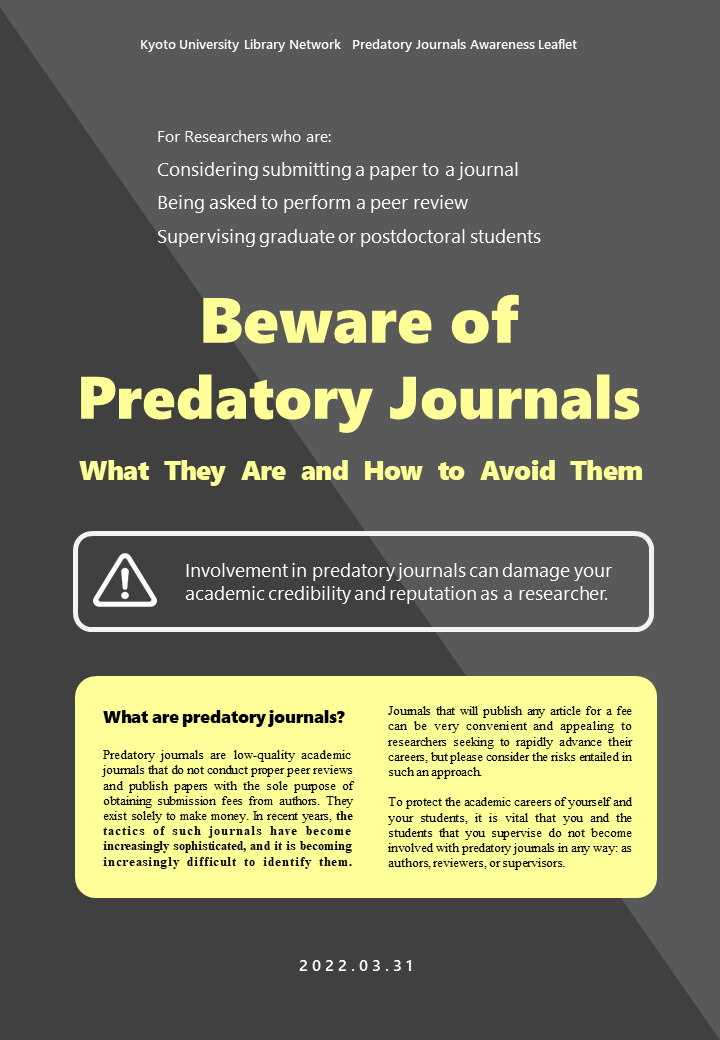 For more information, please visit the following URL:
https://www.kulib.kyoto-u.ac.jp/content0/1387404?lang=en
2022.05.16 User Support Division, Main Library
On 2022-05-13
(
143 reads
)
The Maintenance work was completed (2022/05/17 11:50) and the service has been restored.
Kyoto University Rare Materials Digital Archive will suspend its service due to system maintenance for about 2 hours from 10:30am, May 17, 2022.
The service will be restored as soon as the maintenance work has been completed. 
Thank you for your understanding.
On 2022-05-02
(
317 reads
)
On 2022-04-28
(
1060 reads
)
Use of electronic resources including databases, e-journals and e-books subscribed by Kyoto University is subject to copyright laws and licence agreements.
The licences generally prohibit the following uses:
Systematic and programmatic download
Usage beyond the private purpose
Reproducing and distributing
Violation of the licence agreements may result in the suspension of access to e-resources for the whole University.
There have been frequent recent occurrences of users unintentionally downloading or accessing large volumes of data using pre-read browser functions. Pre-read browser functions continually access links within pages in the background while pages are being viewed. As a result of this, large volume data downloads or large volume access of which the user is unaware may occur, even if the user intends to use electronic journals in the standard way. We request your cooperation in disabling these functions by making the below changes to your browser settings.
Flier
Electronic Journal "Excessive Access" Recent Case: It happens without any intention!!(PDF)[Flier]
Ref.
[Kyoto University Library Network]
On 2022-04-27
(
906 reads
)
Library online services and E-journals, Databases is available during holidays: 2022/04/29 - 2022/05/05 except for maintenance.
We are sorry that it takes much longer than the normal term. 
Please contact from here: Contact Form
Kyoto University E-journals/Databases Plug-in System FAQ (ECS-ID/SPS-ID required)
https://ninsho-log4.kulib.kyoto-u.ac.jp/plugin/plugin_faq_en.pdf 
[Kyoto University Library Electronic Resources Section.]
On 2022-04-21
(
456 reads
)
Additional images 46-56 are now available. (2022/4/25)
Kamakura Nendaiki (鎌倉年代記) is a chronicle of the Kamakura Period. It was formerly owned by the Mibu family and now in the possession of the Main Library.
The front side of the folded book is already available on Kyoto University Rare Materials Digital Archive, and now the reverse side has been digitized and released.
On the front page, each vertical column corresponds to a year, with a summary of the major figures' appointments and biographies.
The reverse side contains the events of the year corresponding to the front side, and also includes many records not founded in other historical documents.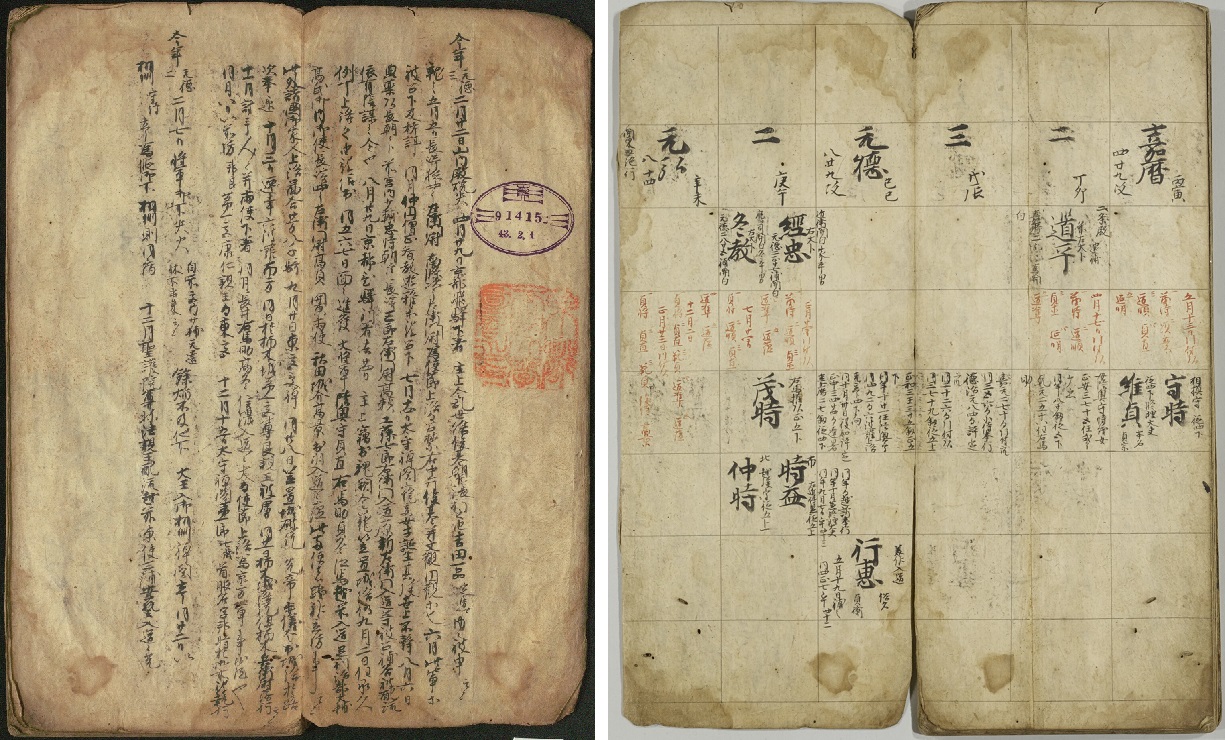 LEFT Reverse side: Gentoku 2-3 (1330-1331)
RIGHT Front side: Around Gentoku 2 (1330)
As of April 25, 2022, Kyoto University Rare Materials Digital Archive provides 1,872,223 images of 23,250 titles.
On 2022-04-18
(
1362 reads
)
On 2022-04-08
(
1503 reads
)
"Dai Kanwa Jiten" on JapanKnowledge is available.
Details:
Dai Kanwa Jiten (Great Chinese-Japanese Character Dictionary)
https://japanknowledge.com/en/contents/daikanwa/
Access:
After the using:
Concurrent Users :10
After the using, please click the Logout button at the top right corner of the page.
[Library Network]
On 2022-04-06
(
313 reads
)