[Workshop] What is graduate school like? -A day in the life of graduate students- (Dec 17)
On 2021-12-09
(
3271 reads
)
[Workshop] What is graduate school like? -A day in the life of graduate students-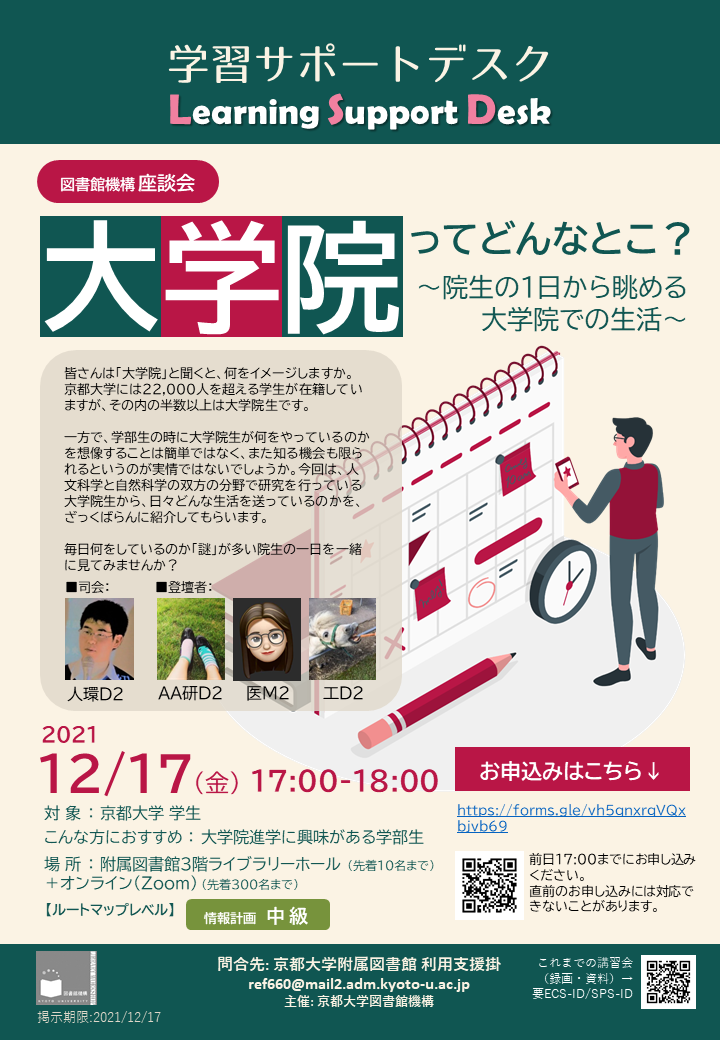 Learning Support Desk provides the workshop for introducing research life as graduate student on December 17th. Please feel free to join us.
Reservation: Click here to make a reservation.
-Please register by 17:00 one day before the desired date.
*The language of the workshop: Japanese (You can ask the question in English)
*The workshop won't be recorded.
*If you have any questions about not only this workshop but also learning, please feel free to ask Learning Support Desk!
Date and Contents:
■What is graduate school like? -A day in the life of graduate students-
Date: 2021/12/17 Fri. 17: 00-18:00
Place: The workshop is held in person (at Library Hall of Main Library, up to first ten people) and online (through Zoom).
Moderator: Human & Env D2
Speaker: ASAFAS D2, Medicine M2 and Engineering D2
Route Map level: (1) Plan for academic information seeking, Intermediate
(Route Map for Supporting Academic Information Literacy by Kyoto University Library Network)

Content: 
皆さんは「大学院」と聞くと、何をイメージしますか。
京都大学には22,000人を超える学生が在籍していますが、その内の半数以上は大学院生です。
一方で、学部生の時に大学院生が何をやっているのかを想像することは簡単ではなく、また知る機会も限られるというのが実情ではないでしょうか。
今回は、人文科学と自然科学の双方の分野で研究を行っている大学院生から、日々どんな生活を送っているのかを、ざっくばらんに紹介してもらいます。
毎日何をしているのか「謎」が多い院生の一日を一緒に見てみませんか?
Recommended for: Undergraduate students interested in graduate school

Contact:
User Support Section, Main Library
Email: ref660 [at] mail2.adm.kyoto-u.ac.jp
[User Support Section, Main Library]