Learning Support Desk
Support
Graduate student staffs support your learning.
When you have any question of problem, please feel free to ask us!
*All staffs can speak English and Japanese.

Location:1st floor of the Main Library, inside the Learning Commons
Hours:Weekdays, 13:00-19:00
Learning Support Desk Facebook page


We will resume the Learning Support Desk from October.
Hour: Weekdays, 13:00-18:00 (No reservation required.)
Main Library closes at 18:00; You had better come by 17:30.

To keep you and staffs safe,
- Time to talk is limited to 30 minutes per student per day.
- We will take your body temperature. If you have a fever, you cannot use Learning Support Desk.
- Please wash and disinfect your hands before talking.
- You must wear a face covering.

You can also use the "Learning Support Desk Online" instead of face to face advice.(2020.9.10)


KU Library Learning Support Desk Online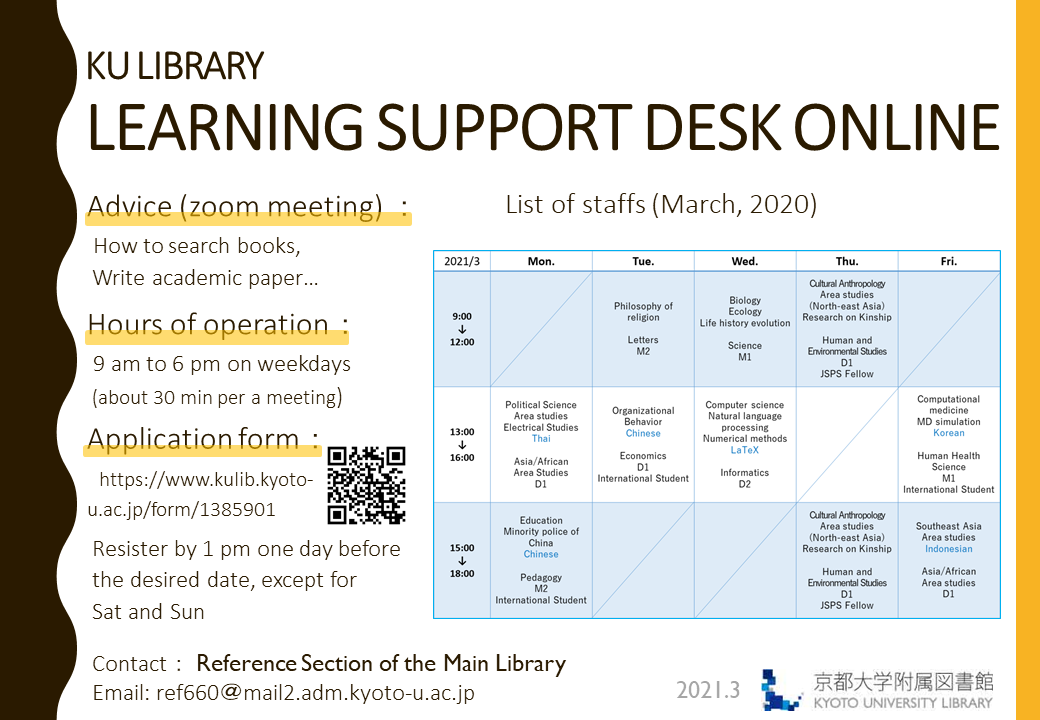 ★Learning Support Desk Online(2020.6.8-)
 Staffs from Learning Support Desk who are graduate students offer advice through Zoom to help you learn online, search books, or write academic paper.
 You can also submit a request with your friends.
- Students of Kyoto University only.

  Click here to make a reservation.

Notice

■ Hours of operation in September: 9 a.m. to 6 p.m. on weekdays (about 30 min per a meeting)
 Please make sure to register by 1 p.m., one day before the desired date,except for Saturday and Sunday.

■ If you are looking for advanced advice on your own field, see the list of staffs to find their fields of study.

■ Once your reservation is confirmed, we will inform you by email with details including URL for the online meeting.




Student Staffs
*All staffs can speak English and Japanese.
Urdu
Student Staffs
Mon
Tue
Wed
Thu
Fri


13:00
↓
16:00
What I am
Familiar with

Computer science




Natural language processing




Numerical methods

Sociology of education




Cultural studies




Eastern Asia




Chinese




Korean

Informatics




Chinese

Contract




Game theory




Korean

Thermal flow simulation




Internal combustion engine

Faculty
Informatics
D1
Pedagogy
M2
International Student
Informatics
D3
International Student
Economics
D2
International Student
Energy Science
M2


16:00
↓
19:00
What I am
familiar with

Education




Minority police




Chinese

Philosophy of religion




Chemistry




Spectroscopy




Mol. Dynamics

Physics




Astronomy




Computer Science

Tourism




Southeast Asia




Indonesian

Faculty
Pedagogy
M2
International Student
Letters
M1
Science
M2
Science
D2
JSPS Fellow
Asia/African Area Studies
D2
Contact:
Reference Section of the Main Library
ref660[at]mail2.adm.kyoto-u.ac.jp TEL: 075-753-2636
LastUpdate: 2020/9/17