【Main Library】Learning Commons and Silent Area open!
On 2014-04-25
(
16229 reads
)
Learning Commons and Silent Area open in Main Library.
These spaces are designed in cooperation with teachers, librarians and students.
★What is Learning Commons?
Learning Commons is on the 1F. For Kyoto University members, space designed to be used for group work, discussion and rehersal of presentation. Movable desks, whiteboards and projectors are provided. In addition, a mini-lesson sponsored by the Library is also provided. And, Lerarning Commons provided
Learning Support Desk
. Graduate students offer advice about how to use the Library, how to write reports and so on, in several languages.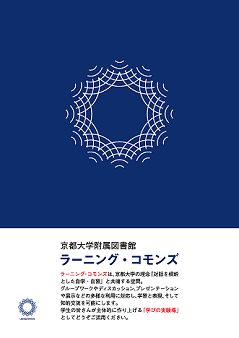 Main Library HP >
Lerarning Commons
★What is Silent Area?
This area is designated as a place of intensive study, in complete silence. Devices that emit sounds, such as PCs and desk calculators may not be used here.
Main Library HP >
Silent Area