Medical Library : Support Campaign for foreign medical licensing exam Part.3 [Workshop] Aug. 25, 2015
On 2015-08-17
(
1663 reads
)


Medical Library Support Campaign for foreign medical licensing exam 

Part.3 [Workshop] USMLE Step1 / How to use "USMLE Easy"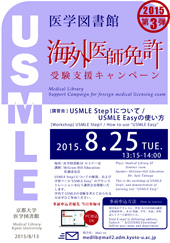 The Medical Library will hold a workshop of USMLE for the USMLE takers in Kyoto Univ.
Date: Tuesday, August 25, 2015
Time: 1:45 - 2:00 pm
Place: Seminar Room on 3F, Medical Library
Offered to : Members of Kyoto University
How to apply: No reservation needed.
Please refer to the Medical Library website for details.
Outline:
(1) Overview of USMLE Step1
(2) Demonstration of an online learning tool "USMLE Easy"

Speaker: Mr. Tatsuya Sato (McGraw-Hill Education)
The workshop will be conducted in Japanese, however Q&A can be conducted in English.
 Contact: Kyoto University Medical Library
TEL: 075-753-4323
Email: medlib [at]mail2.adm.kyoto-u.ac.jp
[Medical Library]