[Ebooks] Trial Access to the "Kinokuniya Digital Library (KinoDen)" (1 Nov 2019 - 31 Dec 2019)
On 2019-11-01
(
2233 reads
)
Kyoto University Library Network has a trial access to the eBooks available on "Kinokuniya Digital Library (KinoDen)".
KinoDen contains more than 20,000 titles of Japanese eBook titles representing a broad range of academic subject matter.
If you would like the library to purchase a book, simply click the "購入をリクエスト" button, fill out the quick form, and submit to the Library for approval. Library staff will notify you whether the request is approved or rejected by e-mail.
Period
The trial access will be available only "1 Nov 2019 - 31 Dec 2019"
Contents
More than 20,000 titles of Japanese eBooks
URL
Access
Only from university computers network
Search by the specific title of a ebook or click "検索" button.
Click "閲覧開始" or "試し読み" button, then click "試し読みを続ける" link.
Attention
Ref
[Limited Time Only] Trial Access to more than 1.2 million ebooks (1 Nov 2019 - 31 Dec 2019)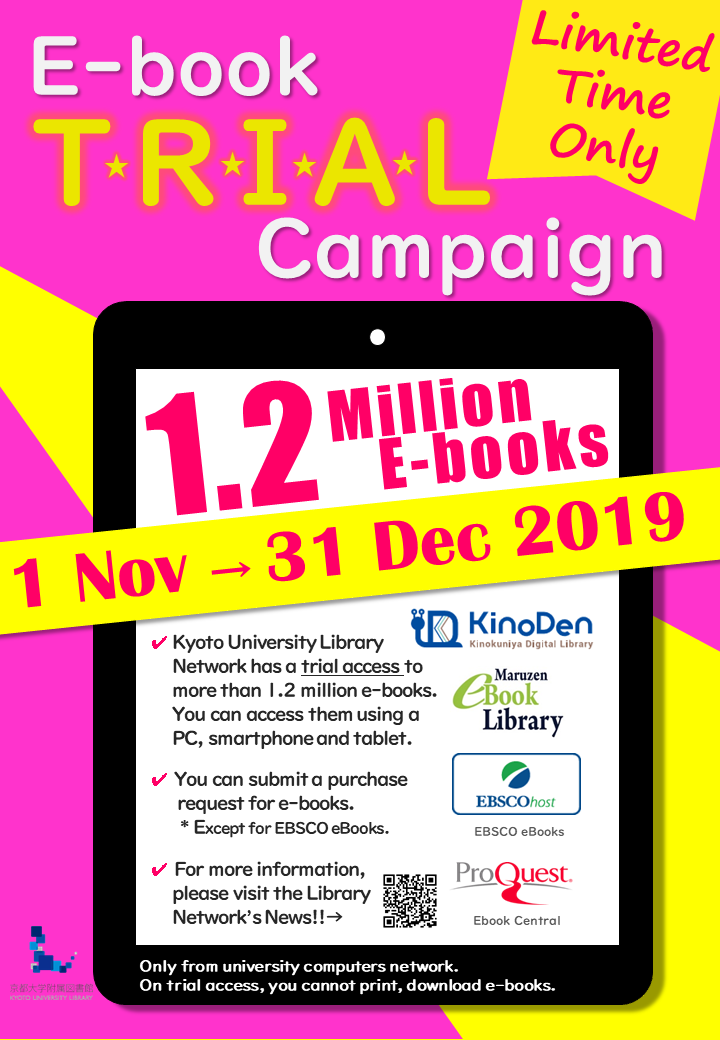 Contact:
Kyoto University Library Electronic Resources Section.
https://www.kulib.kyoto-u.ac.jp/form/14106