[closed]Kyoto University Library User Survey (June 15- July 31)
On 2015-08-03
(
4868 reads
)
Kyoto University Library User Survey is closed.
We are going to announce user's ansers and prize winner at a future date.
Many thanks for your cooperation!

KYOTO UNIVERSITY LIBRARY USER SURVEY
YOUR VOICE CHANGES OUR LIBRARY.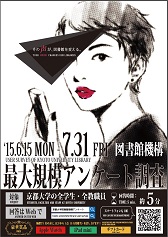 We would like to ask all the Kyoto University members to help us with a questionnaire about our libraries.
This is our second attempt targeting the entire university community; the first one in 2008, completed by about 3,000 people, actually led us to extend the opening hours and establish the Study Room 24, which is open for 24 hours. We hope to make changes for the benefit of all users. Please take time to fill out the questionnaire.


Period 15.6.15 MON - 7.31 FRI

Subject Students, Faculties and Staff at Kyoto University

 
One of you will be selected by lot and win 50,000 yen worth of a prize of the three below.
Gift card (iTunes card, coffee card, book coupon etc.)
Contact us
Kyoto University Library Network
library-survey@mail2.adm.kyoto-u.ac.jp