[Seminar] Experience as a resident doctor in USA(11/10 18:00-19:00)
On 2015-10-20
(
1439 reads
)


Medical Library Support Campaign for foreign medical licensing exam 

Part.4[Seminar] Experience as a resident doctor in USA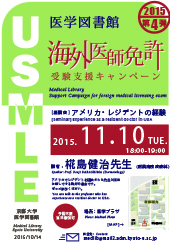 You can talk to the professor who has experience as a resident doctor in USA.
Date: Tuesday, Nov. 10, 2015
Time: 6:00 - 7:00 pm
Place: Medical Plaza (Click the poster to see the map)
Speaker: Prof. Kenji KABASHIMA (Dermatology)
How to apply: No reservation needed.
The workshop will be conducted in Japanese, however Q&A can be conducted in English.
 Contact: Kyoto University Medical Library
TEL: 075-753-4323
Email: medlib [at]mail2.adm.kyoto-u.ac.jp
[Medical Library]