[Medical Library] Talk session : Road to an internal medicine residency in NY 2017 (Jun 1, 5:30-6:30 pm) [Medical Library Support Campaign for foreign medical licensing exam Part 1, 2017]
On 2017-05-16
(
1889 reads
)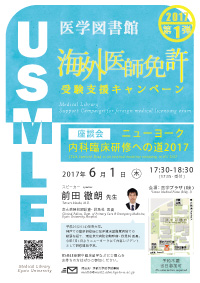 Medical Library Support Campaign for foreign medical licensing exam Part 1, 2017
[Talk session] Road to an internal medicine residency in NY 2017
【Added on 11th Jul.】
We are very grateful that many people attended.
The handouts are available through KURENAI.
・Presentaion of M.D. Maeda
We will be holding a talk session having a doctor who is going to join an internal medicine residency program in NY from July. This is a must for those who are planning to take the USMLE.
Date:
   Thursday, June 1 2017, 5:30 pm - 6:30 pm (Reception starts at 5:15)
Venue:
   Medical Plaza (Bldg. I) at Faculty of Medicine Kyoto University
   Yoshida-Konoecho, Sakyo-ku, Kyoto
   Please click the poster to check a map.
Speaker:
   Tetsuro Maeda, M.D.
   (Clinical Fellow, Department of Primary Care and Emergency Medicine, Kyoto University Hospital) 
Speaker's profile:
   平成26(2014)年京大卒。
   神戸での臨床研修後に在沖縄米国海軍病院での勤務を経て、
   現在京大病院初期診療・救急科 医員。
   今年7月1日よりニューヨークにて内科レジデントとして研修開始予定。 
How to reserve:
   No reservation required.

Please refer to the following page for details.
http://www.lib.med.kyoto-u.ac.jp/usmle/usmle2015.html

--
Contact:
Medical Library Kyoto University
medlib@mail2.adm.kyoto-u.ac.jp