[Library Network] Open Research: The future of scholarly communication (Sep. 13th 13:00-17:00)
On 2017-08-21
(
1682 reads
)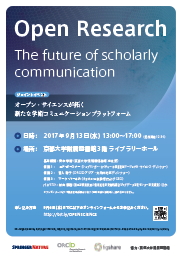 【Date/Time】
Wednesday  September 13th, 2017, 13:00-17:00 
(Doors open at 12:30-)
【Venue】
Library Hall, Kyoto University Main Library (3rd floor)
【Registration】
The workshop is free of charge and open to all. However, all participants need to register from the below link before Wednesday, September 6, 2017: http://bit.ly/OPENSCIENCE
【Program】
Keynote Address
Takaaki Aoki (Associate Professor, Institute for Information Management and Communication, Kyoto University)
Lecture 1: 'Open Research Drives Better Science'
Ed Gerstner(Springer Nature, Regional Scientific Director, Greater China)
Lecture 2: 'ORCID: Connecting research and researchers'
Nobuko Miyairi(ORCID, Regional Director, Asia Pacific / MLIS)
Lecture 3: 'More Research, More Impact'
Mark Hahnel (figshare, part of the Digital Science Portfolio)
Panel Discussion
Yasuhiro Murayama(Big Data Integration Research Center, National Institute of Information and Communications Technology) et al.
More information is available on: http://www.springer.jp/info/20170802001302.php
※Lecturers speak in English or Japanese. There is no interpreter.
【Purpose of the event】
Open science is a recurring theme in discussions of science policy worldwide, and Japan is no exception. As Japan's open science strategy is being developed, it is imperative for universities and research institute s to formulate their open access and open data policies, build research infrastructures such as institutional repositories and researcher databases, and provide training help researchers are able to make the most of the opportunities these new platforms offer. This seminar brings together a global publisher (Springer Nature), research tools provider (Digital Science), and researcher identifier plat form ( ORCID) to provide an overview of the changing research environment. Through a dialogue with stakeholders in Japan's research community, we hope to better understanding of the needs of the academic community and help them to better understand how these tools and platforms can be used to improve the impact of their research.
【Co-Organizers】
【Supporter】
Kyoto University Main Library