[Medical Library] Talk session : My Journey to a Dermatology Professor in the US (Apr 12, 5:15-6:30 pm) [Medical Library Support Campaign for foreign medical licensing exam Part 1, 2018]
On 2018-03-28
(
1338 reads
)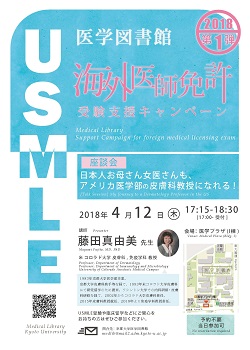 Medical Library Support Campaign for foreign medical licensing exam Part 1, 2018
[Talk session] My Journey to a Dermatology Professor in the US
We will be holding a talk session having a doctor who is successful in the U.S. and graduated from Kyoto University.
This is a must for those who are planning to take the USMLE.
Date:
   Thursday, April 12 2018, 5:15 pm - 6:30 pm (Reception starts at 5:00)
Venue:
   Medical Plaza (Bldg. I) at Faculty of Medicine Kyoto University
   Yoshida-Konoecho, Sakyo-ku, Kyoto
   Please click the poster to check a map.
Presenter:
   Mayumi Fujita, M.D., Ph.D.
   (Professor, Department of Dermatology, Professor, Department of Immunology and Microbiology, University of Colorado Anschutz Medical Campus)
Presenter's profile:
   1983年京都大学医学部卒業。
   京都大学皮膚科助手等を経て、
   1993年米コロラド大学皮膚科にて研究留学のため渡米。
   ワシントン大学での内科研修・皮膚科研修を経て、
   2002年からコロラド大学皮膚科着任。
   2015年皮膚科教授就任、2018年より免疫学科教授併任。
How to reserve:
   No reservation required.

Please refer to the following page for details.
http://www.lib.med.kyoto-u.ac.jp/usmle/usmle2015.html

--
Contact:
Medical Library Kyoto University
medlib@mail2.adm.kyoto-u.ac.jp