[Library Network] Workshop: What is a conference presentation? -Graduate students' presentation experiences- (Feb 9)
On 2022-01-31
(
743 reads
)
What is a conference presentation? -Graduate students' presentation experiences-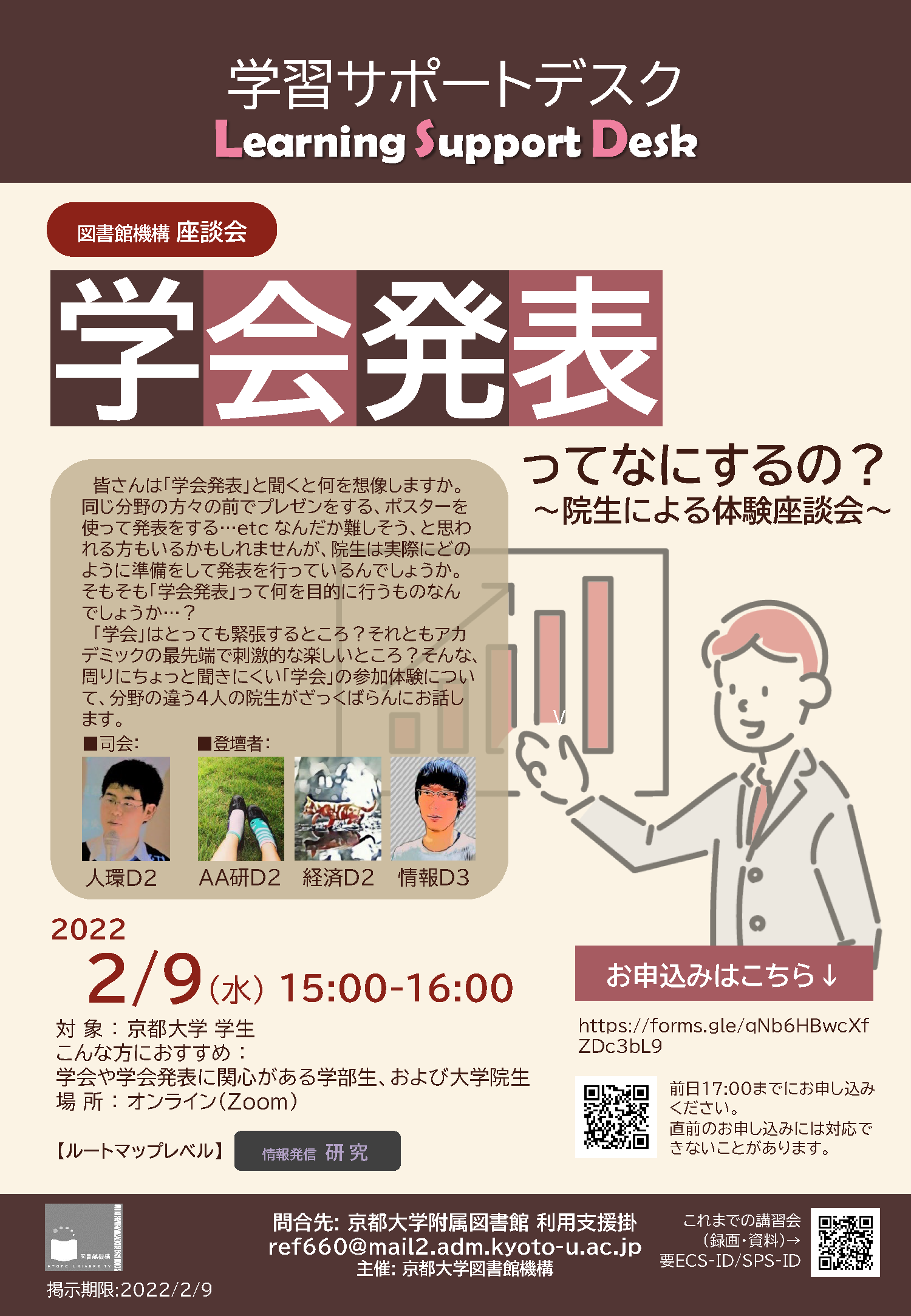 Learning Support Desk provides the workshop to talk about an academic conference on February 9th. Please feel free to join us.
Reservation: Click here to make a reservation.
-Please register by 17:00 one day before the desired date.
*The language of the workshop: Japanese (You can ask the question in English)
*The workshop won't be recorded.
*If you have any questions about not only this workshop but also learning, please feel free to ask Learning Support Desk!
Date and Contents:
■What is a conference presentation? -Graduate students' presentation experiences-
Date: 2022/2/9 Wed. 15: 00-16:00
Place: The workshop is held in online (through Zoom).
Moderator: Human & Env D2
Speaker: ASAFAS D2, Economics D2 and Informatics D3
Route Map level: (4) Use and disseminate information suitably, Practical Research 
(Route Map for Supporting Academic Information Literacy by Kyoto University Library Network)

Content: 
皆さんは「学会発表」と聞くと何を想像しますか。同じ分野の方々の前でプレゼンをする、ポスターを使って発表をする…etc
なんだか難しそう、と思われる方もいるかもしれませんが、院生は実際にどのように準備をして発表を行っているんでしょうか。
そもそも「学会発表」って何を目的に行うものなんでしょうか…?
「学会」はとっても緊張するところ?それともアカデミックの最先端で刺激的な楽しいところ?
そんな、周りにちょっと聞きにくい「学会」の参加体験について、分野の違う4人の院生がざっくばらんにお話します。
Recommended for: Undergraduate students and graduate students interested in conference and conference presentation

Contact:
User Support Section, Main Library
Email: ref660 [at] mail2.adm.kyoto-u.ac.jp
[User Support Section, Main Library]