On 2023-10-26
(
496 reads
)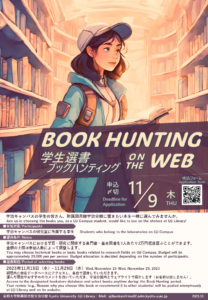 This information is intended for the students on Uji Campus.
Call for Participants in Uji Library's Book Hunting on the Web
We are happy to announce that the Book Hunting on the Web will be held this year.
It is an event where students can select new books to be added to the shelves at Uji Library. The event will be held online this year.
You might be wondering, "I'd like to enrich the library collection in my research field and related areas,", or "I'm looking for basic books and recently published ones." Students on Uji Campus are eligible to join the Book Hunting.
■Participants
Students who belong to the laboratories on Uji Campus
■Notes
You may choose technical books or basic books related to research fields on Uji Campus.
Budget will be approximately 20,000 yen per person.
Budget allocation is decided depending on the number of participants.
■Period
Wednesday, November 15–Wednesday, November 29, 2023
Access to the designated bookstore database and select books anytime during the Book Hunting period.
Your review (e.g., Reason why you choose this book or recommend it to other students) will be posted anonymously at Uji Library and on its website.
■Application
Go to the URL below and make application online.
https://forms.gle/SJYMBPYCim62stau5     [Registration was closed.]
■Deadline for Application
Thursday, November 9, 2023
We will send an email with instructions on how to use the bookstore database by November 14.
In the event that we receive a large number of applications, participants will be selected by taking their laboratories and research fields into consideration for a balanced representation.
■Books purchased in the previous Book Hunting can be found on KULINE.
Book list 2020
Book list 2021
Book list 2022
For your information, in addition to this Book Hunting event, Uji Library also welcomes requests or recommendations for book purchases from faculty and staff members and students on Uji Campus anytime.
Application for: https://forms.gle/RAxmFxKa1cxR6k5N7
Contact: Kyoto University Uji Library
E-mail: ujibunkan[at]mail2.adm.kyoto-u.ac.jp ([at] => @)
TEL: 0774-38-3010
On 2023-10-26
(
1077 reads
)
On 2023-10-25
(
1944 reads
)
On 2023-10-23
(
1395 reads
)
We are pleased to introduce our new 'Keep Order' service, allowing you to reserve and keep books that are on the library shelves, but not checked out.
1. Available 24/7:
You can request books online 24/7 through MyKULINE. If you already know which book you'd like to borrow, you can easily reserve the materials you need, even during non-operating hours.
2. Flexible Pickup Times:
Books can be picked up at any time during our operating hours. Once you receive a notification email confirming the availability of your reserved materials, you can visit us at your convenience.
The reservation is held for 7 days.
Please check our opening schedule.
3. Real-Time Reservation Management:
You can follow the status of your Keep Order Service in real-time through MyKULINE. If the status is "Preparing",  you can also cancel your reservation online.
Check out the poster for details on how to use the Keep Order Service!
*Please note that some materials may not be available for temporary borrowing. Please be aware that in advance.
【Economics Library】(2023.10.23)
On 2023-10-13
(
679 reads
)
Medical Library will be closed on Oct. 18th due to the Faculty of Medicine's Anatomy Ceremony.
We apologize for your inconvenience.
Closed:Wednesday, 18 October, 2023
Please use the book post, when you return materials.
(Except for the books with CD or the books from other libraries)

Library of Human Health Sciences is open as usual.