In June 1, 2022, the Katsura Library will expand their services as follows. For details, please see here.

・From Wednesday, June 1, 2022, we will extend the opening time to 21 o'clock.
・The hours of services are as follows.
 9:00‐16:45 Reference(Q&A)
       Visiting Other Library
       Dissertation
       Rare Books-Requires prior reservation
 9:00-20:30 Reception for the Theater Room
       Retrieval service (library staff pickup the materials from the Stack Rooms)
 9:00-20:45 Use of the Group Study Rooms
       Use of the Theater Room

■The way of entering and leaving the library after 17 o'clock
・Entering and leaving the library after 17 o'clock is possible only from the IC certification door (next to the automatic door) on the second floor.
・Please do not forget to bring your "certified IC card (student card, staff card)" to enter and leave the library.
・【2nd floor automatic door】 and 【1st floor IC certification door】 are closed after 17 o'clock.

※If you have only the "Kyoto University Library Card (magnetic card)" or the "Facilities Use Card" issued on the Katsura Campus, please click here.

Contact:
Katsura Library
E-Mail: 090stosho[at]mail2.adm.kyoto-u.ac.jp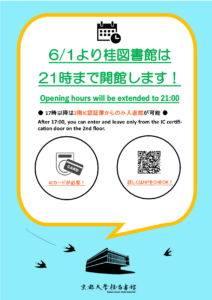 On 2022-05-27
(
133 reads
)
Student book request will be available from 1st June, 2022.
If you have any books you wish to be stocked at Katsura Library or North and South Library (Yoshida Campus), please let us know.
Who can make a request?
Request to Katsura Library : All students belonging to Kyoto University (including auditing students, trainees, and research students)
Request to the North and South Library : Students belonging to the Graduate School of Engineering and the Faculty of Engineering (including auditing students, trainees, and research students)
For more details, please check the following page.
Book Request Form for Students (Only from campus network) :
https://www.t.kyoto-u.ac.jp/lib/en/guide/student_request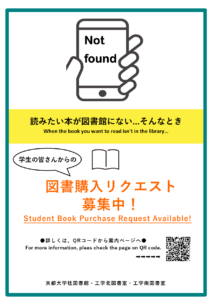 On 2022-05-24
(
490 reads
)
The Journal of Philosophical Studies : The Tetsugaku Kenkyu, the official journal of The Kyoto Philosophical Society, is now available on Kyoto University Research Information Repository (KURENAI).
The Journal of Philosophical Studies : The Tetsugaku Kenkyu
http://hdl.handle.net/2433/269265
The Tetsugaku Kenkyu was first published in 1916, and is one of the most long-established academic philosophical journals in Japan. Nishida Kitarō, Tomonaga Sanjūrō and other faculty member from the pioneer days of the Department of Philosophy, the College of Letters of Kyoto Imperial University were involved in the launch. Over 600 volumes from the first issue (April 1916) are now available on KURENAI, and newer issues will be added with a 1-year delay. We hope this will be helpful for lots of researchers in this area.
[Academic Support Section, Kyoto University Library]
On 2022-05-20
(
281 reads
)
Due to network system maintenance, All JapanKnowledge Services will be unavailable during the following period.
We appreciate your support and patience.
Date: Monday, May. 28, 2022 Time: 9:00-13:00 (JST)
Suspended service: All JapanKnowledge Services (JapanKnowledge Lib, JK Select contents and JKBooks)
[Main Library Academic Support Section]
On 2022-05-20
(
3555 reads
)
On 2022-05-19
(
630 reads
)
The National Diet Library, Japan, (the NDL) launched a Digitized Contents Transmission Service for Individuals.
The Service is available to official registered users of the NDL.
For detail:
On 2022-05-17
(
419 reads
)
The Graduate School of Letters of Kyoto University and the Kyoto University Museum have been carrying out the restoration and digitization of an important cultural property Dainihonshi hensan kiroku held by the Graduate School of Letters since academic year 2018. Three hundred twenty-two images of the restored volumes 15-20 are now available in Kyoto University Rare Materials Digital Archive.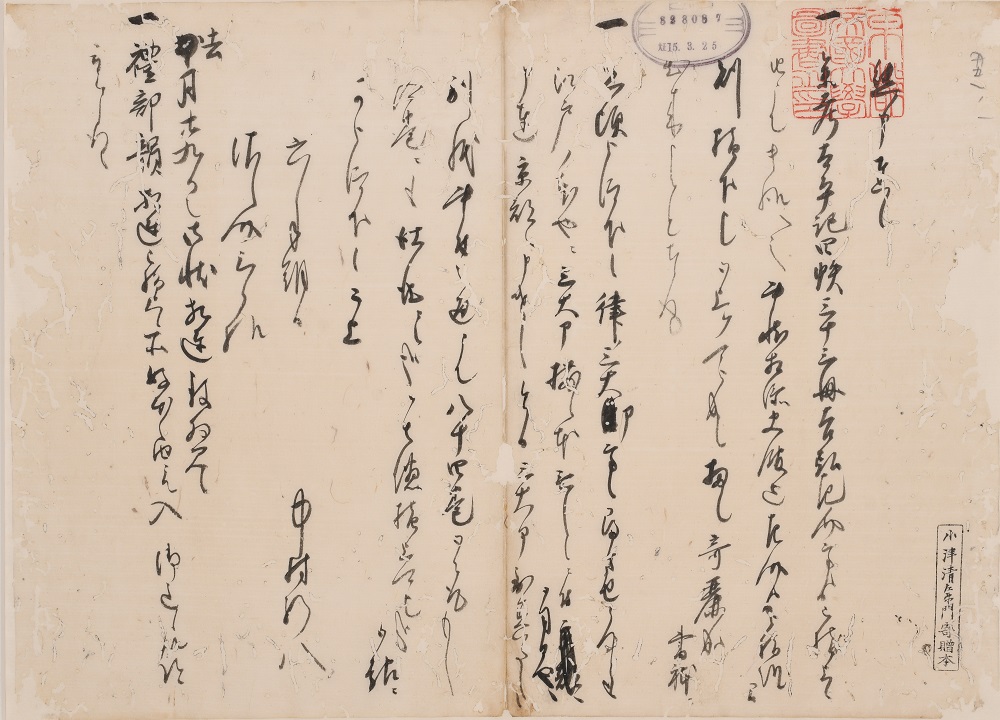 ▼Important Cultural Property - Dainihonshi hensan kiroku (G.S. Letters)
 
Dainihonshi hensan kiroku (大日本史編纂記録) is a collection of more than 6,000 letters (copies) exchanged between Shokokan (彰考館; Mito Domain's office for history compilation) in Mito (currently in Ibaraki Prefecture) and Edo (currently Tokyo) and their Kyoto office regarding the compilation of Dainihonshi (*1) by Tokugawa Mitsukuni (徳川光圀; 1628-1701). A total of 42,810 people and organizations and 15,159 historical records and literature works are mentioned in the letters and the content covers a wide range of aspects of the time, such as history, literature, Confucianism and Japanese classical literature, as well as the publishing culture during the Genroku Period, which makes this rare material a first-class historical record.
The rare material, before being restored, consisted of 248 volumes of about 10,000 sheets (one sheet folded in half to form a pouch makes two pages) in the form of fukuro-toji yotsume-toji (袋綴四つ目綴装) with sheets of papers folded at the fore edge and sewn at the back edge at four points. However, the rebinding and restoration done to the material during the Edo period were not appropriate to secure its long-term preservation; they also made it impossible to read the majority of the volumes without damaging them, because the text near the back edge was sewn inside the spine. Therefore, a restoration project was launched in academic year 2018, with a plan to restore first 20 volumes funded by the Sumitomo Foundation. The Graduate School of Letters has also set up Kyoto University Fund for the restoration of its library collection and the Kyoto University Museum acquired the university's special budget for this project in 2018.
Each volume of Dainihonshi hensan kiroku is to be released on the Internet through Kyoto University Rare Materials Digital Archive upon the completion of restoration and digitization processes. As of May 17, 2022, the Digital Archive provides 1,872,545 images of 23,250 titles.
On 2022-05-16
(
1056 reads
)
The Kyoto University Library Network has been working to alert and educate KU researchers about the issue of "predatory journals". And we have published a new leaflet about this issue.
This leaflet contains the latest information on the increasingly complex methods in which predatory journals operate.
Please take a look at it.
"Beware of Predatory Journals"(Kyoto University Library Network, March. 2022.)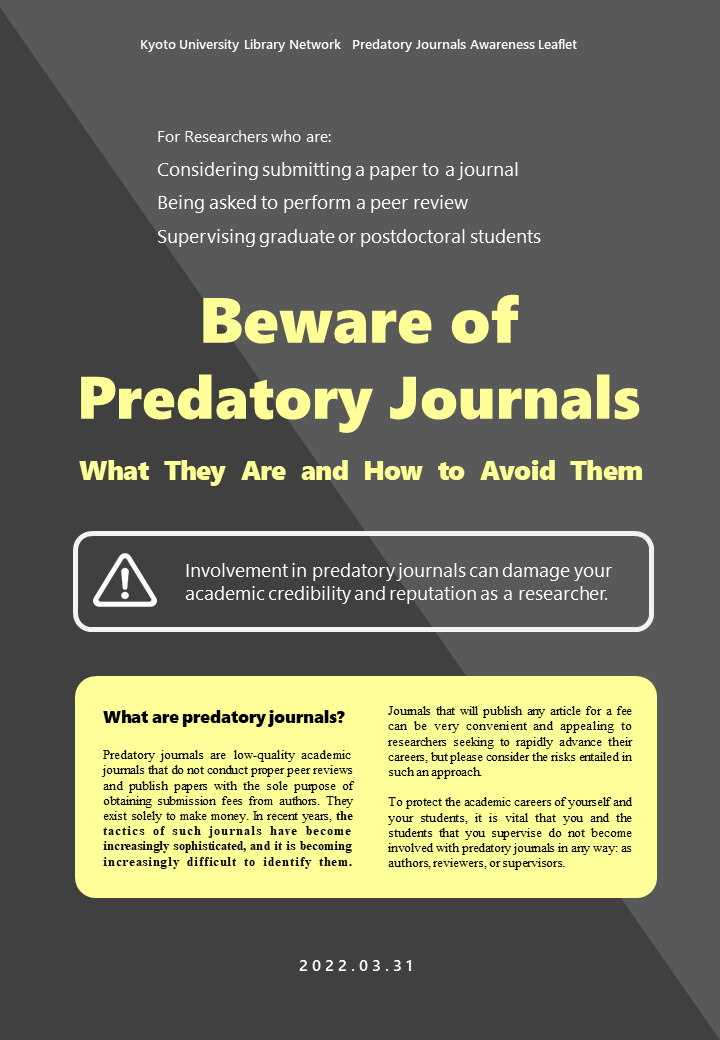 For more information, please visit the following URL:
https://www.kulib.kyoto-u.ac.jp/content0/1387404?lang=en
2022.05.16 User Support Division, Main Library
On 2022-05-13
(
163 reads
)
The Maintenance work was completed (2022/05/17 11:50) and the service has been restored.
Kyoto University Rare Materials Digital Archive will suspend its service due to system maintenance for about 2 hours from 10:30am, May 17, 2022.
The service will be restored as soon as the maintenance work has been completed. 
Thank you for your understanding.